Capitol Avenue
Capitol Avenue Office Space, High Street Retail Shop, Food Court in Sector 62 Noida by Maasters Infra
Capitol Avenue Noida is a Maasters Infra Noida LUXURY Project Office Space, Retail Shops, Food Court at Capitol Walk located at Sector 62 Noida very best accessible location, connected with NH24 Highway and Near to Noida Electronic City  Metro Station Sector 63 Noida.
Capitol Avenue is located Noida 62 near the Metro Station, surrounded by more than 1000 acres of Commercial and Residential Development. Capitol Avenue Noida 62 is the most reputed Central Retail & Business Hub serving over 10 Lacs inhabitants expected to live in the vicinity and perhaps the most celebrated Business landmark of the locality.
Capitol Avenue is a Gold Classes Premium commercial project Developing by by Maasters Infra. It is located in Sector 62, Noida and a well-planned project. Its spreads over an area of 5 Acre.
This is a beautiful and eye-catching commercial project. All units are under construction. It has different types of branches such as Commercial office space, Commercial Shop, which is designed in such a way that it is very satisfying.
The property units offer a comfortable space, and all the commercial offices and commercial shops have different sizes. This project well-designed tower. This project is developed by well–known builder Maasters Infra. You can enjoy the best facilities and amenities at Capitol Avenue. Namely, Multipurpose Courts, Power Back Up, Rain Water Harvesting, Visitor Parking, Waste Disposal, CCTV Camera. It is loaded with capabilities for all types of a business ventures. And provide a rich and efficient environment to ensure good business potential.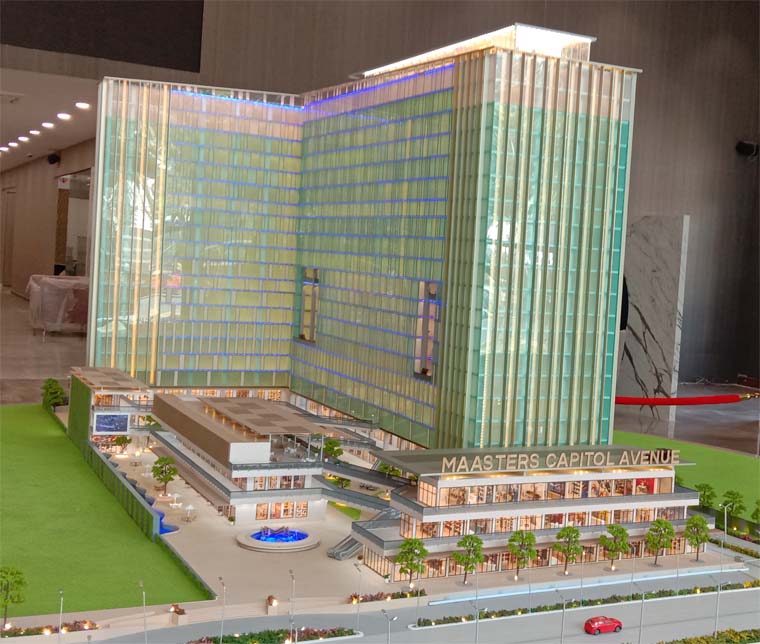 Capitol Avenue Noida
Capitol Avenue 100% Paid-up Land Gold Class Commercial Project in Gold Location with Assured Return (AR) Starting from DAY ONE.
Let's Go For
GOLD
Masters Infra Commercial Project in Sector 62 Noida is developing in 10 Acres Plot and it is square plot 100 x 200 Meters and Open 3 Sides Plot also you can say that it is all sides open project location. This is Developing in 5 Acres 19 Floor Tower. In this project 1st and 2nd Retail Shops and 15 Floor Office Space in different Sizes starting from 100 Sqft Shops and 580 sqft from Offices.
Capitol Avenue Food Court
Capitol Avenue Food Court 12% Assured Reruns Till Possession, START @10.95 Lacs*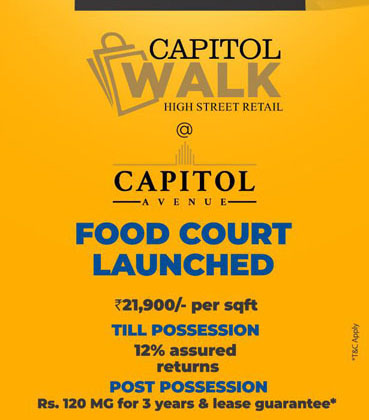 Capitol Avenue Food Court Sector 62 Noida offer you 10% and 12% Assured Rental with Guaranteed return of investment for first 6 Years by Maasters Infra.
It is a BIG Safe Investment Platform for Buyers / Investor, minimum booking size 100 Sqft.
Maasters Infra is the leading civil construction company, making landmark commercial project Capitol Avenue in Noida
Capitol Avenue is the Luxury commercial IT/ITEs project in Sector 62 Noida. Maasters Infra is launching its first commercial IT/ITEs project in Electronic City sector 62 Noida. It has two towers, tower A of size 10,00,000 Sqft. and tower B of size of 10,00,000 Sqft. Capital Avenue is having approx 80 offices on each floor with 15 lifts. Capital Avenue is the modern structural project in sector 62 Developing by Masters Infra Noida having Dedicated 10 acres land for 2 towers Office Space and Retail Shops.
Maasters Group Capitol Avenue is high rise IT /ITEs project and having 20 floor in each tower. Masters Group is  launch Smart offices and Retail hub in sector 62 Noida. This project is located near Ithum, Corenthum Project of sector 62 Noida. Masters Infra Noida Capitol Avenue project will be a ideal IT /ITEs commercial project for operating offices and running retail shops, Anchor Store, Showroom, food courts etc. because this project is surrounded by thousands of offices, commercial buildings, data centers, IT companies, BPOs and MNCs. More then 5 lakh families residing in 2 kms redius.
Capitol Avenue project is planned in a very strategic location of sector 62 Noida. Capitol Avenue is connect with Electronic City Metro Staion from Noida to Delhi, it is well connected from Delhi and Ghaziabad via NH24 (NH9) which is just 200 Mtrs from the project. Connaught Place and Yamuna expressway is aprx 20 minutes drive from Capitol Avenue Noida. IGI international airport is 40 minutes drive from this business hub.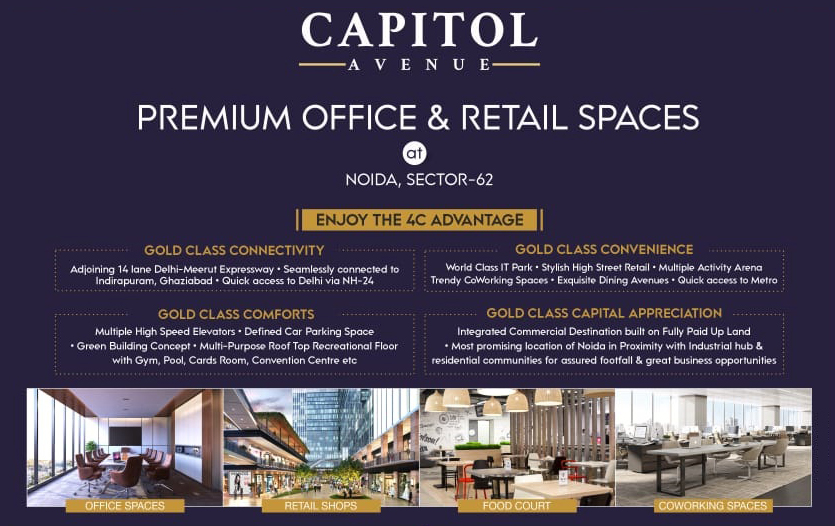 Contact Us
CHOOSE YOUR OPTION AS PER YOUR CONVENIENCE
Please Fill-up The Form We Will Contact You