Capitol Avenue Food Court
Capitol Avenue Food Court Sector 62 Noida offer you 10% and 12% Assured Rental with Guaranteed return of investment for first 6 Years by Maasters Infra.
It is a BIG Safe Investment Platform for Buyers / Investor, minimum booking size 100 Sqft.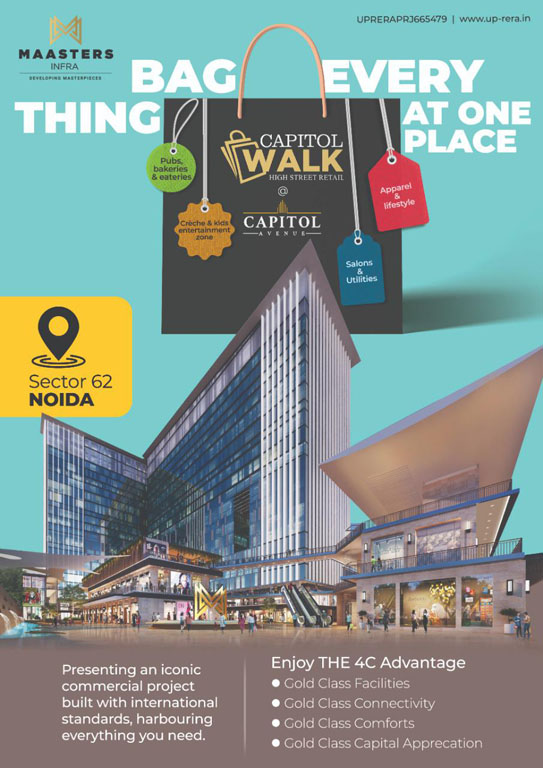 Capitol Avenue Launched Food Court

BAG BIG
Advantage
From
SMALL INVESTMENT

Presenting an iconic Commercial Project Built with International Standers, harbouring every thing you need.
Capitol Avenue Food Court 12% Assured Reruns Till Possession and Post Possession Rs 120 MG for 3 years & Lease guarantee*.
Maasters Infra is the leading civil construction company, making landmark commercial project Capitol Avenue in Noida
Capitol Avenue is the Luxury commercial IT/ITEs project in Sector 62 Noida. Maasters Infra is launching its first commercial IT/ITEs project in Electronic City sector 62 Noida. It has two towers, tower A of size 10,00,000 Sqft. and tower B of size of 10,00,000 Sqft. Capital Avenue is having approx 80 offices on each floor with 15 lifts. Capital Avenue is the modern structural project in sector 62 Developing by Masters Infra Noida having Dedicated 10 acres land for 2 towers Office Space and Retail Shops.
Maasters Group Capitol Avenue is high rise IT /ITEs project and having 20 floor in each tower. Masters Group is launch Smart offices and Retail hub in sector 62 Noida. This project is located near Ithum, Corenthum Project of sector 62 Noida. Masters Infra Noida Capitol Avenue project will be a ideal IT /ITEs commercial project for operating offices and running retail shops, Anchor Store, Showroom, food courts etc. because this project is surrounded by thousands of offices, commercial buildings, data centers, IT companies, BPOs and MNCs. More then 5 lakh families residing in 2 kms redius.
Capitol Avenue project is planned in a very strategic location of sector 62 Noida. Capitol Avenue is connect with Electronic City Metro Staion from Noida to Delhi, it is well connected from Delhi and Ghaziabad via NH24 (NH9) which is just 200 Mtrs from the project. Connaught Place and Yamuna expressway is aprx 20 minutes drive from Capitol Avenue Noida. IGI international airport is 40 minutes drive from this business hub.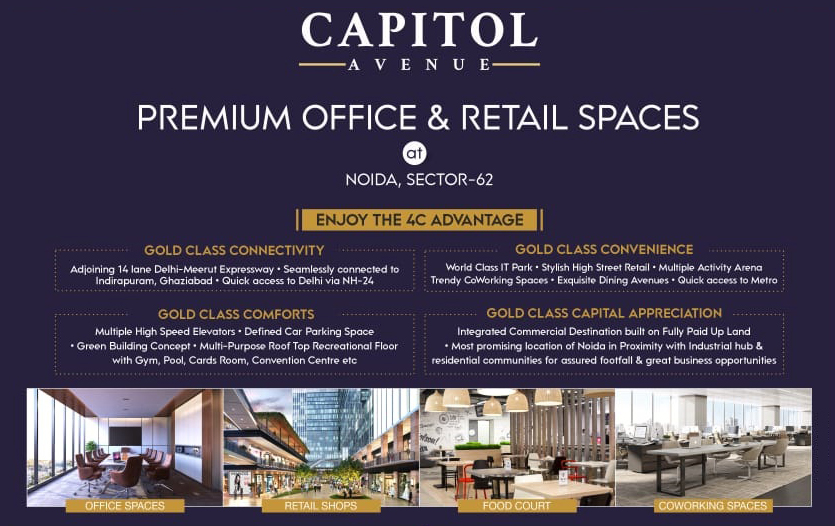 Contact Us
CHOOSE YOUR OPTION AS PER YOUR CONVENIENCE
Please Fill-up The Form We Will Contact You